What happens to children who have been to Holbrook Academy?
The answer is 'all sorts of things'. Some are now in far-flung parts of the world.
Others are round the corner. We are proud of them all.
We want to create an alumni community and are inviting former students to join the network so we can keep in touch, find out what they've been up to since leaving and be able to invite them to any events in the future.  We want to show current students the variety of pathways available to them after leaving school and alumni insight is so valuable!
Getting involved is really simple, if you're an ex-student you just need to sign up through this link – https://networks.futurefirst.org.uk/signup/holbrook – it just takes a couple of minutes!
We are really keen to keep in contact with former Holbrook students so please do join!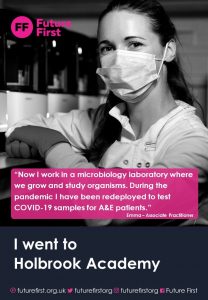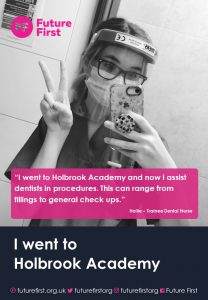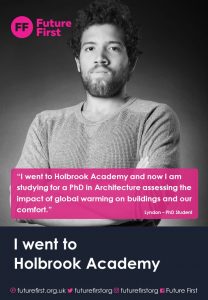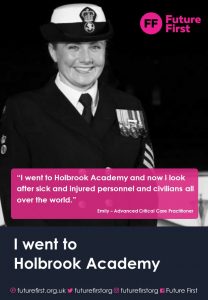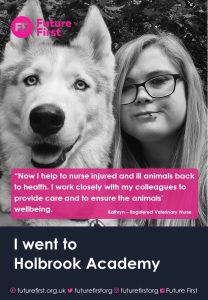 Here are just a few of our alumni, offering their thoughts on their time at Holbrook.
---
Kieran Bean (2005-2010)

When I left Holbrook I was unsure what I really wanted to do as a career,  I decided to continue my studies and was lucky enough to be one of the first students that attended Suffolk One when it opened its doors in September 2010. I commenced the Foundation Course in media and creative art from September 2010. I successfully completed this which enabled me to progress onto the 2 year BTEC diploma in media and creative art. I was given the opportunity in helping with the theatre productions that Suffolk One produced,  specializing in the technical aspect of staging and lighting.   For the next 2 years I juggled my studies and gained technical theatre experience  with their productions of  'We will Rock You', ' Guys and Dolls', as well as assisting on the technical aspects of drama and dancing exams. I successfully completed my studies in July 2013 culminating in being nominated and being awarded the Faculty Student of the year (Arts and Sports) 2012/13.
When I left Suffolk One I knew I wanted to pursue a career in the technical theatre world. In August 2013 an opportunity came up which enabled me to undertake some work experience with a local stage and technical hire company DHE. They offered me an 18 month apprenticeship in technical theatre which I started in November 2013. I am currently travelling all over the country setting up stages and rigging lighting for various events, working with amateurs to professionals. I was also asked back to help with the technical aspects of Suffolk One's recent production of 'Hairspray' in February 2014.
---
Lily Brazier

After finishing my 10 GCSE's at Holbrook I moved on to pursue my A Levels at Northgate Sixth Form, in Art, English Literature and German. My love of drawing and painting then led me to complete a Foundation Diploma in Art and Design at Suffolk New College, where I was able to study on a wide range of artistic pathways, some of which I had never tried, for example photography and sculpture. This allowed me to explore my artistic talents to a greater extent and eventually helped me gain a place at London College of Fashion, part of University of the Arts London, on an incredibly competitive and intense degree in Performance Makeup and Prosthetics for Film and Theatre. I am currently on a work placement term at the National Theatre and with a Freelance Illustrator, and have also interned with such companies as Gecko Theatre, and worked with MA Students, Photographers, Magazines and on self initiated design based projects.
My time at Holbrook was a valuable and exciting experience, with fantastic teaching and excellent facilities. I used to be very shy and Holbrook really helped to build my confidence and gave me a basis of excellent GCSE results which have helped me to get where I am now, with confidence and with a positive attitude.
---
Daniel Mostafavi (2005-2010)
Having attended Holbrook Primary School, Holbrook High School and the Royal Hospital School, I have been to all three schools in Holbrook.  I left Holbrook High School in 2010 with 11 GCSEs.  I then went on to RHS to do my A levels in Business, English Literature and ICT. I am now studying Business at the University of Hull. My course includes a year working in a business environment and I hope to find a job that will allow me to make a real contribution and  gain valuable experience.
---
Tom McCoy (1996-2001)
Holbrook played a crucial role in helping me define my future career path. Whilst studying for my GSCEs the school arranged for me to complete work experience at a local radio station, sparking my interest in journalism. After gaining 10 GSCEs at Holbrook, I obtained my A-Levels at Chantry Sixth Form Centre before studying English and Media at the University of Sussex. I am now employed as a Broadcast Journalist for BBC Sport, working across TV output and the website, and have been lucky enough to have worked on major tournaments such as the 2010 World Cup and Euro 2012.
The standard of teaching I received at Holbrook was excellent. Additionally, I am also grateful to have studied alongside so many talented and ambitious people, plenty of whom remain friends to this day.
---
Holly Hewitt (2004-2009)
After completing my GCSEs at Holbrook I studied the International Baccalaureate at Colchester Sixth Form College and am currently spending my year-out teaching English in a school for blind children in Hyderabad, in India. When I return to the UK I will be studying Human, Social and Political Sciences at Cambridge University. At Holbrook I was pushed academically to achieve 12 good GCSEs but also got involved in many extra curricular activities, including a German Exchange, school plays, choir and after-school foreign language clubs. Holbrook is quite a small school which is really nice as it means all the teachers know you and you know everyone else which gives it a more personal feel. The teachers and other staff make every effort to expand students' horizons and to create an enjoyable, friendly atmosphere.
---
Hayden Hurst (2004-2009)
My time at Holbrook equipped me with 11 GCSEs, allowing me to move on to complete my A Levels at Colchester Sixth Form College in Biology, Chemistry, Geography and Medieval History. This allowed me to get a place on a highly competitive degree in Marine Biology at Plymouth University, one of the UK's leading institutions for this subject. I am currently in my second year of study, and am looking into taking an optional work placement next year, potentially in Australia or New Zealand. The superb educational and extracurricular services (particularly the sports complex) made my time at Holbrook as constructive and enjoyable as possible. I believe the time I spent there allowed me to progress, achieve my ambitions and reach higher education, through support from dedicated staff members and the positive working atmosphere of the school.
---
Emma Holzhey-Gould (1989-1994)
I have fond memories of my time at Holbrook High, the staff were always very supportive and inspired ambition amongst the pupils.  After leaving Holbrook High in 1994 with 10 GCSE's I went to Chantry Sixth Form and finally to the University of Wolverhampton to achieve a BSC Hons in Applied Sciences.  After taking a few years out backpacking and travelling the world, I finally settled in London where I quickly found my feet in the Property Industry.  I currently work as a PA for British Land – one of the largest property development and investment companies in the UK.
I think Holbrook was great at getting the message across that the world is your oyster and you really can be whatever you aspire to be.