Congratulations to our Year 11 cohort who collected their GCSE results today.
64% of students have achieved a Grade 4 in both maths and English. 72% achieved a Grade 4 or better in maths with 77% achieving a Grade 4 or better in English.  54% achieved at least two Grade 4's in science, with 97% of entries in triple science being awarded a Grade 4 or better.
Headteacher Mr Maltby, in responding to these strong results, said "We are incredibly proud of all of our students at Holbrook Academy and wish them every success with their brilliant futures"
Year 11 student Sam, In responding to achieving an incredible ten GCSEs all at Grade 9,  "I found the GCSE years enjoyable at Holbrook; the community feeling really helped support my learning". Joining Sam in celebrating his astonishing achievement was Lottie, who achieved Grade 9's in all but one of her ten subjects.  Lottie did this while also achieving a Music Grade 8 on the saxophone and representing Suffolk Ladies U18s in cricket!  Lottie said "I enjoyed every second at Holbrook Academy".
All of these results gives us reason to believe that the Class of 2021 will continue to overcome any obstacles placed in their pathway and will go on to achieve great things in their future lives.
Holbrook Academy wins grant of £237,000 for new Science provision and additional teaching centre
Students and staff at Holbrook Academy are celebrating the news that building work will shortly begin on a new science lab and a new teaching centre, following the award of £237,000 from Community Infrastructure Levy funds collected from new housing builds in the local area.
Headteacher, Mr Tom Maltby, said: "This is fantastic news for our students and for our local community. Holbrook Academy is fully committed to enhancing Science for all our students alongside sharing this new Science facility with local primary schools. One of the important lessons from this past year is that Science really matters in our everyday lives and at Holbrook we want to nurture tomorrow's leading scientists. This is a great step forward."
Chair of Governors, Louise Cullen, said: "This project has been a long-term ambition for Holbrook Academy and we are absolutely delighted to finally start work on this exciting new development."
The school will be increasing capacity from 590 students to 600 once the provision is in place. The new teaching centre will be named The Mayhew Centre in honour of former Acting Headteacher, Nicola Mayhew, who led the school following the sudden death of Dr Simon Letman in April 2019, and will enhance Holbrook Academy's commitment to personalised learning.
Poem About Returning to School
Follow the link above to read a poem by Bethan in Year 7 about students returning to school:-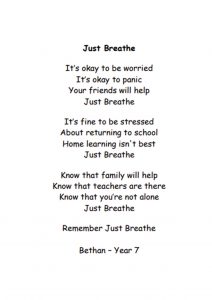 All students have been sent a copy of the 'Information for Students Returning to School' leaflet, together with their timetable and a year group badge.  Please click here for a copy of the leaflet.
Resources to support the transition from Year 6 to Year 7 can be found here
All updates and information for parents/carers can be found here.