Caterlink Summer Term Menu
Congratulations to all our Year 11 students who collected their GCSE results today. Amongst the Class of '22 was Elsie who achieved an incredible 5 GCSEs at Grade 9 and 3 GCSEs at Grade 8 who responded, "I'm really happy – I worked really hard but the support that I have received from the teachers has been great."
Having previously achieved Grade 9 in Maths last year, Ivan was also delighted to receive 5 Grade 9 GCSEs and 4 GCSEs at Grade 8, including a Grade 9 in Further Maths.
Headteacher, Mr Maltby, was delighted at the individual successes at Holbrook Academy alongside the overall progress of this cohort. "This Year group has experienced real challenges over the past two years and yet they have demonstrated such resilience and grit. I am as proud as proud can be of our students."
During the exam season, many students participated in a fire-walking experience that the Academy arranged; a reminder that courage and determination can overcome fearsome obstacles. Today, students at Holbrook Academy have proven that their generation can achieve great things and the Academy wishes them every success in the next chapter of their lives.
Holbrook Academy wins grant of £237,000 for new Science provision and additional teaching centre
Students and staff at Holbrook Academy are celebrating the news that building work will shortly begin on a new science lab and a new teaching centre, following the award of £237,000 from Community Infrastructure Levy funds collected from new housing builds in the local area.
Headteacher, Mr Tom Maltby, said: "This is fantastic news for our students and for our local community. Holbrook Academy is fully committed to enhancing Science for all our students alongside sharing this new Science facility with local primary schools. One of the important lessons from this past year is that Science really matters in our everyday lives and at Holbrook we want to nurture tomorrow's leading scientists. This is a great step forward."
Chair of Governors, Louise Cullen, said: "This project has been a long-term ambition for Holbrook Academy and we are absolutely delighted to finally start work on this exciting new development."
The school will be increasing capacity from 590 students to 600 once the provision is in place. The new teaching centre will be named The Mayhew Centre in honour of former Acting Headteacher, Nicola Mayhew, who led the school following the sudden death of Dr Simon Letman in April 2019, and will enhance Holbrook Academy's commitment to personalised learning.
Poem About Returning to School
Follow the link above to read a poem by Bethan in Year 7 about students returning to school:-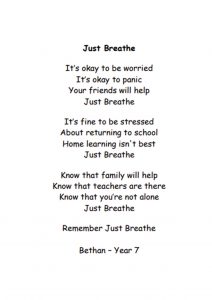 All students have been sent a copy of the 'Information for Students Returning to School' leaflet, together with their timetable and a year group badge.  Please click here for a copy of the leaflet.
OFSTED INSPECTION – 26 February 2019
We are proud and delighted to report that Ofsted has recently judged that the Academy has maintained the good quality of education in the school since the last inspection in 2015. Inspectors particularly commended the quality of pupils' progress and attainment across the curriculum and leaders' clear vision for the future. We were also praised for our strong sense of moral purpose and our commitment to the success of all pupils. The full report is available here:-
ARTS SOCIETY : YOUNG ARTS WORKSHOP
Details of the workshop with Zoe Rubens, funded by the Arts Society South East Suffolk, can be found by clicking the link below:-
REMEMBRANCE MEMORIAL GARDEN