Holbrook Academy aims to educate in the broadest possible sense.
Our top priority is for the maximum possible progress for each student. That is measured by the total progress all our children make between the time they start with us and the time they leave. That means each child is of equal importance. We are not selective. Subject to the standard admissions policy, any child can come to Holbrook Academy. We are genuinely the school of our community.
The government's standard measure for progress achieved by the end of Year 11 is 'Progress 8'. Progress 8 aims to capture the progress a pupil makes from the end of primary school to the end of secondary school. It is a type of value added measure, which means that pupils' results are compared to the actual achievements of other pupils with the same prior attainment.  Progress 8 is based on a calculation of pupils' performance across 8 subjects, called Attainment 8.
Holbrook Academy is a relatively small school and this, we believe, is a strength. We can offer a particularly caring and supportive environment in which each child is known and understood as an individual. To encourage and measure this we are introducing better systems for monitoring each child's ambitions and progress both during their time at Holbrook Academy and beyond. This is our second priority.
These are the measures on which we ask you to judge our performance.
---
GCSE Results 2023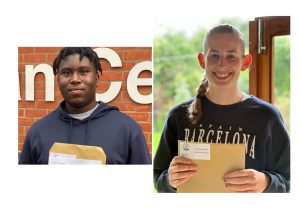 Congratulations to all our Year 11 students who collected their GCSE results on the 24th August. Overall, 73% of students in English, and 70% of students in Maths have achieved grade 4. 
Amongst the Class of 2023 was Abiola who achieved a fantastic 8 GCSEs at Grade 9 and 2 GCSEs at Grade 8 who responded, "I was overcome with joy and gratitude upon receiving my results, thank you to my family and the incredible teachers at Holbrook Academy for supporting me and ensuring I got the grades I worked for, from the beginning to the end of my time at Holbrook".    Further to this, Cerys also did brilliantly with six GCSEs at Grade 9 and four at Grade 8. She commented, "Turns out the stress and work was worth it in the end…".
Acting Headteacher, Mr Anstee-Parry, shared his immense pride in the results: "We are so proud of what our students have achieved and the young people they have become holistically. These results reflect the hard work of all the students, teachers and supportive parents and carers at Holbrook Academy". 
---
Department for Education School Performance Tables